All Penn Entertainment's brands are powered by proprietary technology after Barstool Sportsbook and Casino was migrated to its in-house platform.
The migration took place simultaneously across 16 states where Barstool operates during Major League Baseball's (MLB) All-Star Break, the largest-scale technology migration in North American gaming to date.
Penn describes the migration as a major development which completes its long-term strategic goal to be technologically independent, bringing all gaming operations in-house.
Penn's acquisition of theScore, which was in the process of building the platform when it was bought, and the launch of Penn Games Studios also formed part of this plan. TheScore, now Penn's brand in Ontario, was the first to move to the new tech stack.
'Milestone achievement'
The updated version of Barstool Sportsbook and Casino contains several new elements, including streamlined navigation, more personalisation capabilities and faster deposits and withdrawals.
Jay Snowden, president and CEO of Penn, hailed the migration as a "milestone achievement".
"Having full control of our product and roadmap will lead to improved operational efficiency and the ability to quickly introduce new features, bespoke promotions and wagering markets," Snowden explained.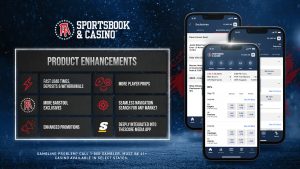 "I want to congratulate our [Penn] Interactive team members who worked tirelessly to ensure a successful on schedule migration, which better positions us to compete in the online gaming space."
'An enormous amount of coordination and planning'
Benjie Levy, head of Penn Interactive and president and COO of theScore, said that the migration took significant planning to complete.
"A technology migration of this scale requires an enormous amount of coordination and planning, and I'm extremely proud of our Interactive team who stepped up to the challenge to execute this complex project on time and with minimal disruption to customers," he said.
"With this proven technology powering a significantly enhanced Barstool Sportsbook, we are primed to deliver a world class online sportsbook and casino experience to customers in the US."
Penn's acquisition of Barstool
Penn's acquisition of Barstool was completed in February this year, closing a process that first began three years earlier in February 2020 when Penn acquired a 36% stake in Barstool Sports for $163m.
Off the back of its Q1 results, in May 2023, Penn increased its full-year revenue guidance to between $6.37bn and $6.81bn, saying the acquisition would power to long-term growth for the company.