The latest challenger to the US online sports betting market, Fanatics Betting and Gaming (FBG), has launched its online sportsbook in Maryland, Massachusetts, Ohio and Tennessee.
After six months of beta testing, the Fanatics Sportsbook is now available to download on iOS and Android.
FBG highlights the new platform's simplified betting and transparent withdrawals as features that will help it appeal to sports fans.
The sportsbook includes live scores, plus lines and odds for teams and athletes. Also included are moneyline bets, spread bets, over-unders, player props, live-in-game betting markets and same-game parlays.
Fanatics bets on product quality
"After six months of beta testing, we are excited to officially launch the Fanatics Sportsbook product to the public," said FBG chief product officer Scot McClintic.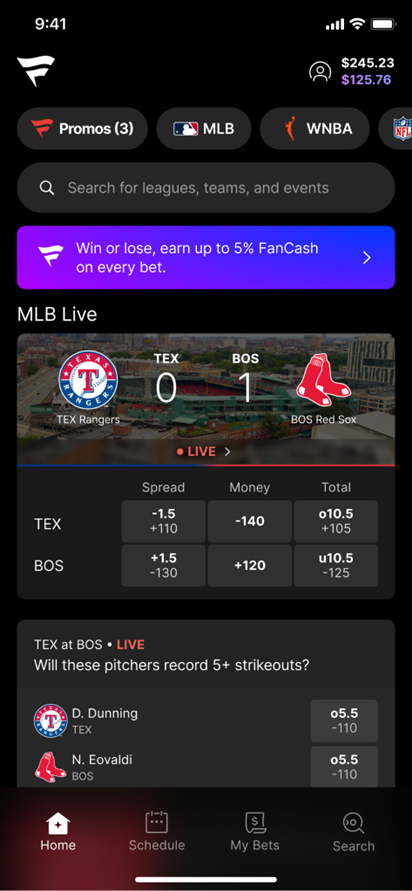 McClintic also pointed to the business' extended focus on product quality as key to its strategy.
"We are laser focused on solving pain points facing customers by offering a faster, easier, and a more rewarding sports betting experience.
"The strategic patience to build a product for the long-term has given us an opportunity to redefine a customer's expectation of what a sportsbook should be.
"With the Fanatics Sportsbook product foundation built and wholly owned, customers should expect unparalleled speed of feature improvement, delivery and innovation."
Integration of PointsBet's Banach tech
On 30 June, shareholders of Australian-based gaming operator PointsBet approved the sale of the business' US assets to FBG.
The $225.0m deal, which is due to conclude at the end of the month, saw it purchase the business' Banach Technology assets. These were first bought by PointsBet in March 2021.
Following the completion of the deal, PointsBet will receive a royalty-free licence to use and develop the technology as it sees fit.
FBG hinted at how it plans to use PointsBet's tech assets.
The sportsbook, which currently runs on Amelco's source code, said it plans to integrate PointsBet's Banach tech to "supercharge" its sports betting engine.
In particular, the sportsbook will leverage the quantative driven trading models from Banach into its risk and trading platform.
Relationship with retail business
FBG, as the betting wing of sports retail giant Fanatics, counts approximately 95 million sports fans in its database.
FBG has said leveraging this data to connect with bettors will play a key role in its strategy. The business pointed to its FanCash loyalty programme as a way it can help build connections with its retail audiences.
Fans can convert FanCash, which is a loyalty scheme originating from Fanatic's retail business, into free bets on FBG's sportsbook. It can also be used to purchase merchandise on Fanatics.com.