The World Series of Politics returns just in time for the 2022 US midterm elections, with analysis of a number of key races across the US.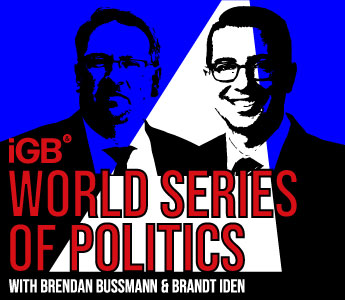 Ahead of the elections, Brendan and Brandt take a look across the US, including a final examination of whether there's any hope of the people of California voting to legalise sports betting.
In Texas, there may be less clarity as the industry may have to consider whether to prioritise betting or casinos, while Brandt is "optimistic" that sports betting legislation could be passed in Georgia once a new legislature is elected.
There's also a look at Washington DC's efforts to fix what has been a struggling sports wagering regime, and at efforts to get legal betting up and running in Massachusetts.
The pair look further afield as well, pondering the impact of Lula da Silva defeating Jair Bolsonaro in Brazil's presidential election while, in the UK, Brandt throws his name into the ring as a prime ministerial candidate, but Brendan has other ideas.
Remember, the World Series of Politics is also available through Apple Podcasts.
And if you can't wait for your next fix of Brendan and Brandt after you've listened to the episode, don't despair. Both will be giving their instant reaction to the midterm election results in an iGB webinar on 10 November, looking at the fallout for US sports betting, online casino and land-based gaming.